High-quality business cards ought to be well protected – in a business card case, for example. prinux has purchased seven different models and tested them for practical suitability. One thing in advance: the most expensive model for just under 20 Euro is not the best – and for as little as 3.60 Euro there is a rather original, very robust solution with style.
The prinux Business Card Box, in which all prinux business cards are delivered by default, is practical as secure transport packaging and for storage in the office. When opened, it can also be used as a display, e.g. on sales counters. But the box is too bulky for travelling. There are plenty of business card cases available for this purpose. So many that it is difficult to choose.
To make the agony of choice a little easier, prinux looked around on Amazon.de and ordered seven cases, which were promising due to the description and customer reviews. The following comparison shows the advantages and disadvantages of the cases in practice.
How many standard business cards (300g/m2) fit in the box and to what size? How convenient is it to open and close? How stable and how heavy are the cases? Which materials were used? And what visual impression do they make – after all, you don't want to embarrass yourself when handing out the cards. The answers to these questions can be found in the table below. But first, let's talk about the special features of the individual cases and the personal assessments of the testers:
1. Sigel VZ 134
The Sigel VZ 135 does not seem to be made for the trouser pocket, but rather for the jacket pocket: the thin aluminium is very sensitive and can be scratched or even dented quickly. Gently treated, however, the case is a joy to use: it is very light, looks good, and is easy to open and close. However, it is so thin that, depending on the thickness of the cardboard, only about 10 to 15 cards fit inside.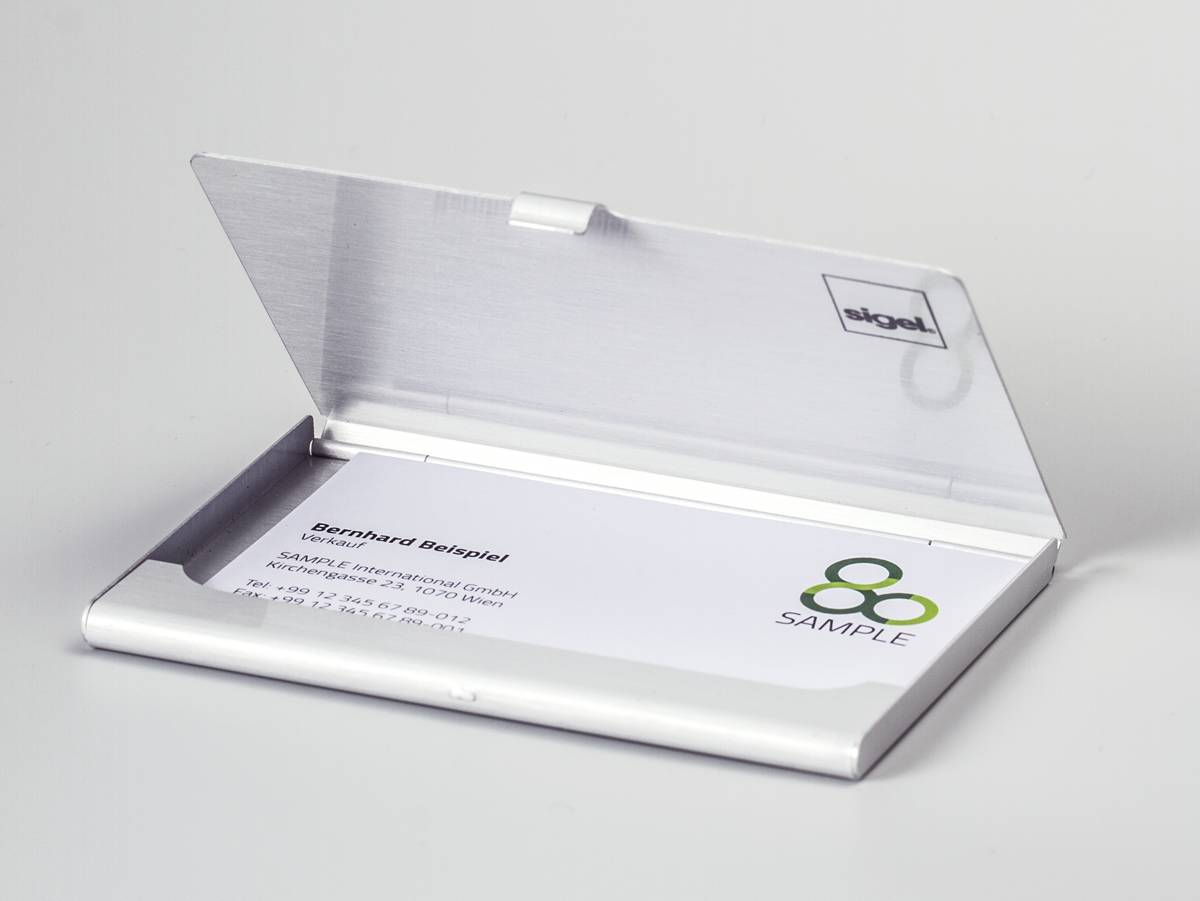 Sigel VZ 135: A classic with which one does not go wrong – unless one treats it too roughly.
2. Sigel VA 140
The Sigel VA 140 is the cheapest and lightest case in the test. However, the plastic does not look particularly representative, and the rather striking supplier logo does not make the product any more elegant. Nor is it overly practical: opening and closing requires some force, and the cards must be carefully placed between the corners provided for this purpose. Otherwise, they will be marked with unsightly pressure points when the case is closed. And even correct insertion is of little help: the corners fail miserably at supporting the cards as soon as the case is shook.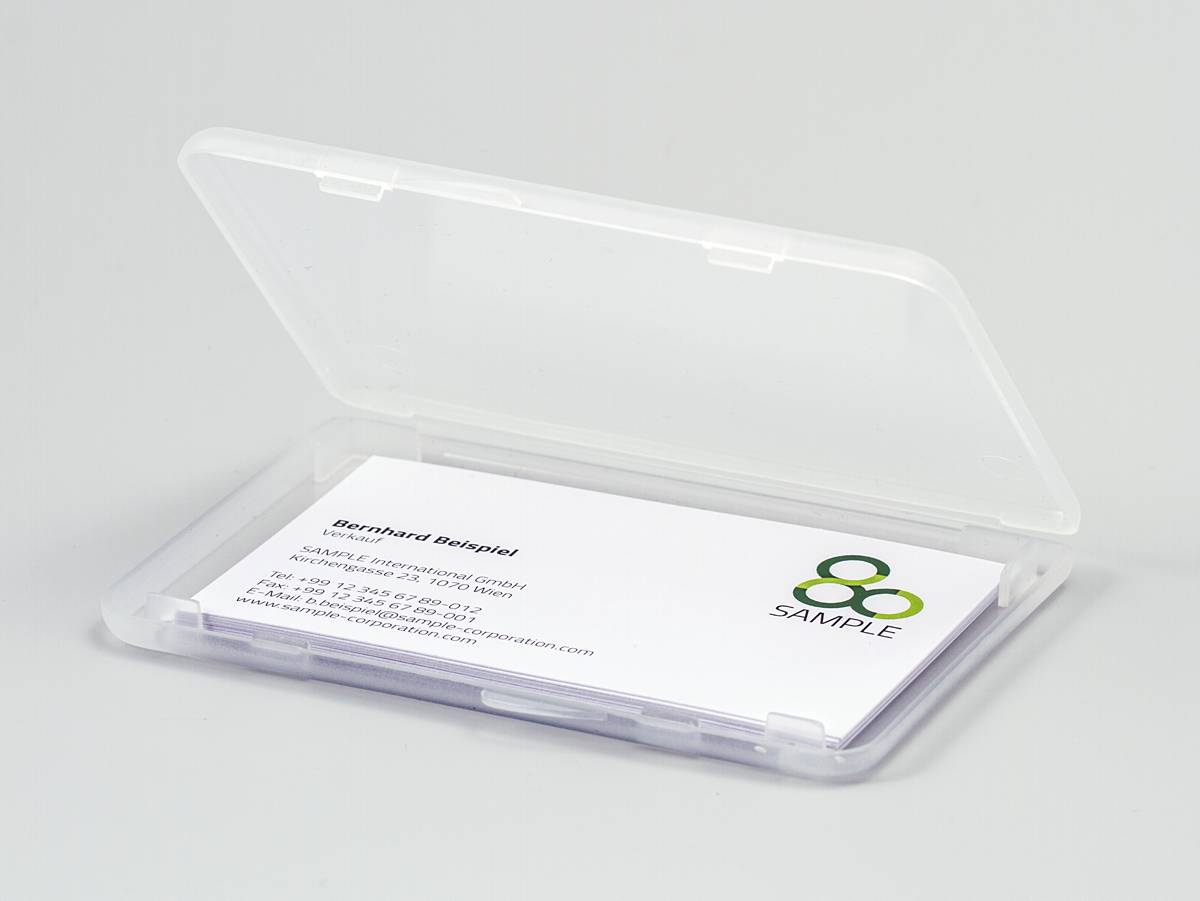 Sigel VA 140: An inexpensive solution that is probably intended more for emergency supplies – e.g. in the car or travel trolley – than for everyday use.
3. Malloom Mini-Briefcase
The Malloom Mini-Briefcase made of aluminum comes with 2 snap fasteners, hinges, additional compartment in the lid and black velvet-like interior lining. Almost unbelievable that at this price it is also impeccably manufactured and looks very high quality. The capacity of 30 cards in the main compartment is also a Plus. The lid can hold another 5 cards, so that you can separate your own and other people's business cards neatly. The somewhat chunky shape is gladly forgiven in view of the storage capacity. The biggest disadvantage: To open it, you have to let the two latches snap open individually, just like a real suitcase. But the case is still not lockable …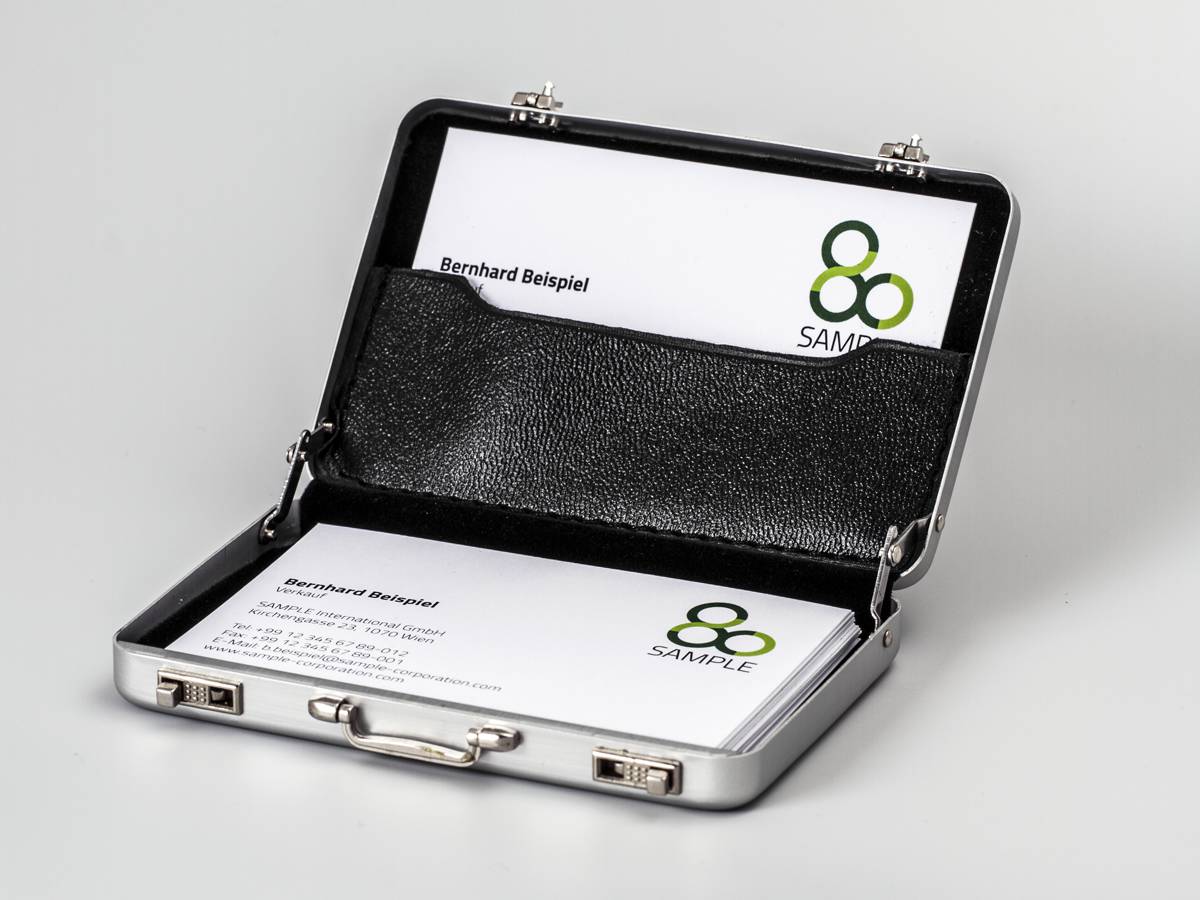 Malloom Mini-Briefcase: The most playful way to transport business cards – provides conversation material when handing them out and also offers a lot of space for little money.
4. Reflects Business Card Case
The Reflects Business Card Box made of matt black sheet metal and shiny black perforated sheet metal does not only look very solid – it is. The case is stiff and the surface resistant; the closure, which scrapes over the perforated sheet metal, leaves no traces even after long use. Speaking of perforated sheeting: this material has three advantages in this case: Firstly, it allows you to look inside without opening it to check the card stock. Secondly, it saves weight. Third, it simply looks good.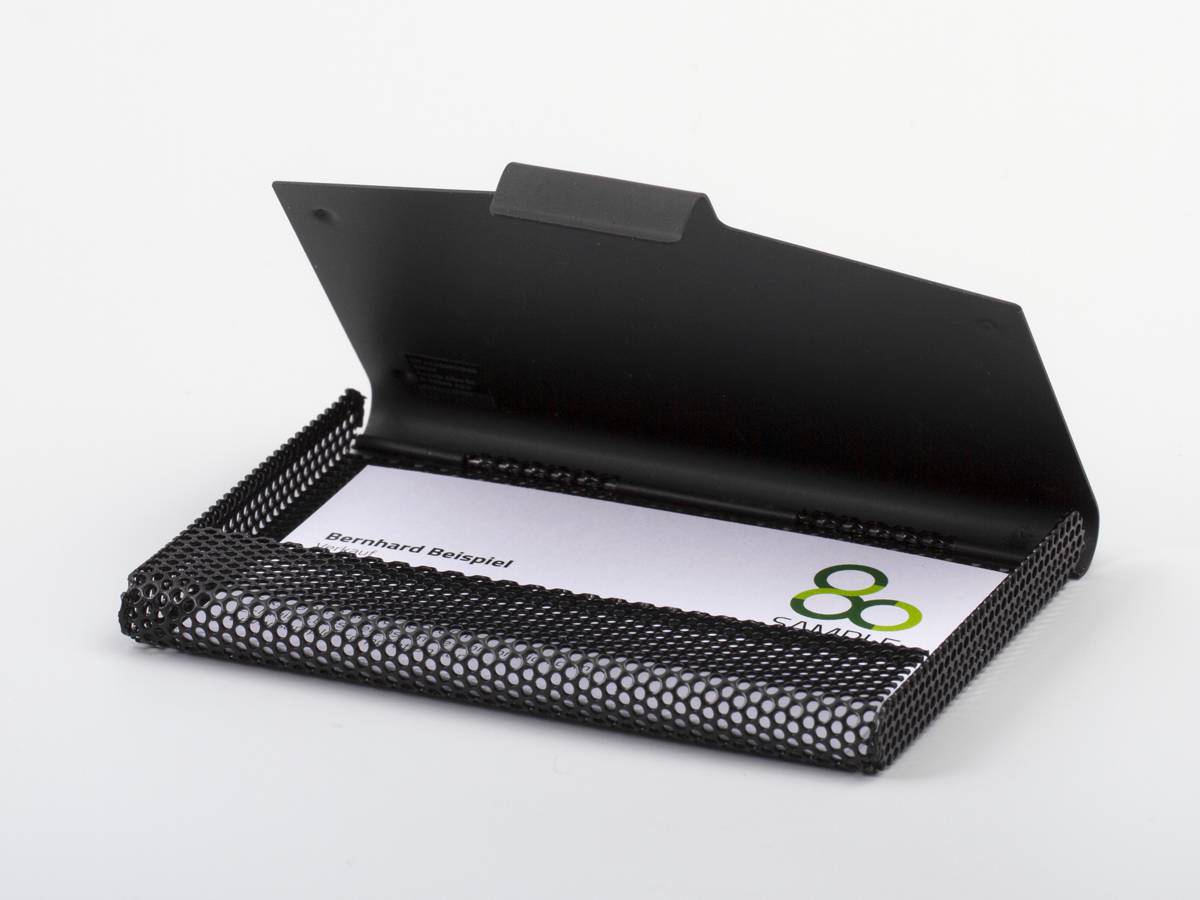 Reflects Business Card Case:  Design as it should be: functional, stable and good looking.
5. Wedo Business Card Case
The Wedo case is opened on the narrow side – but be careful: If you simply try to lift the black lid at any point, you won't get far: The case remains closed, instead the black imitation leather threatens to detach from the aluminum underneath. Opening the case directly at the aluminium flap works better, although there may be need for a fingernail. Apart from this problem, the case is quite ok: On the outside, the embossed imitation leather gives it a dignified, rather conservative impression, while brushed aluminum protects your business cards on the inside. However, the double cover also adds to the weight and external dimensions.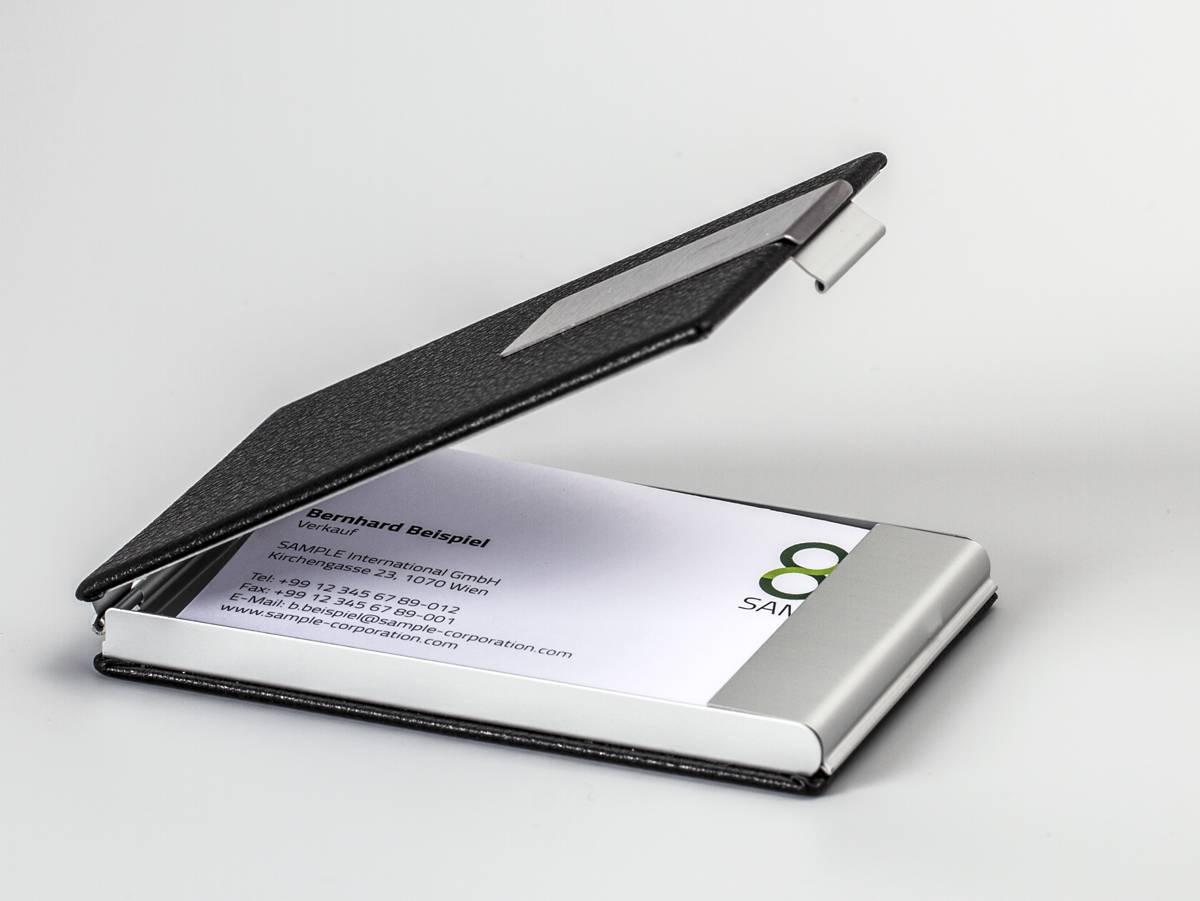 Wedo Business Card Box: The favorable choice for all who have little use for naked metal.
6.  Emall Supply Business Card Dispenser
The business card dispenser from Emall Supply does not require a clasp: In the streamlined shaft made of brushed stainless steel, a metal clip ensures that no card slips out of the always open slot on the narrow side. To remove a card, you have to push it with your thumb towards the slot. In principle, this works well, but often more than one card slides outwards – you have to push the rest back into the dispenser. This back and forth puts a lot of strain on the cards – so they should be quite stable and not scratch-sensitive. By the way, this product is not suitable as a depository for other people's business cards – pushing individual cards into the dispenser is tedious, as is subsequent re-sorting. The whole thing costs just EUR 3.60, including shipping, which, however, takes some time.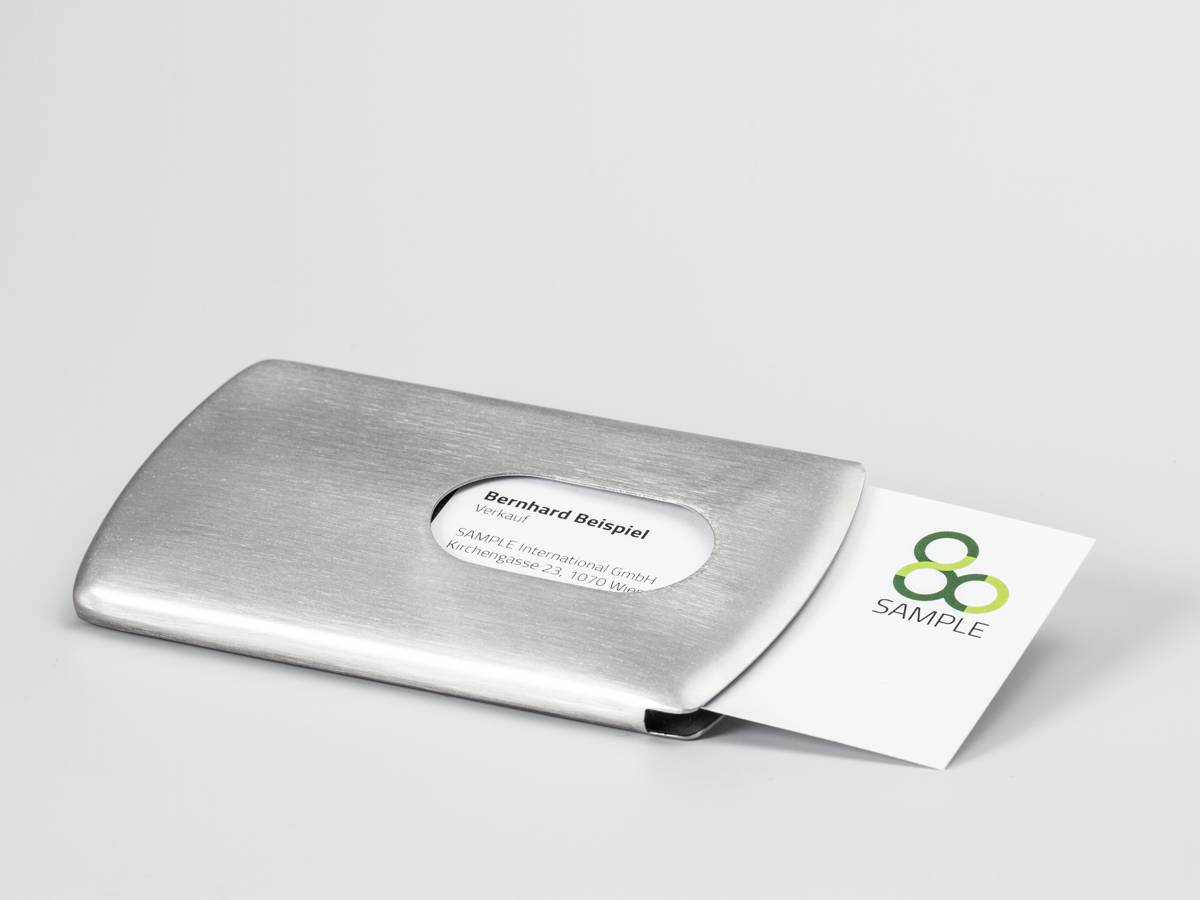 Emall Supply Business Card Dispenser: A good idea with few weaknesses and excellent value for your money.
7. Quantum Abacus Monumentum
With a price of 19,99 EUR by far the most expensive case in this comparison looks quite luxurious at first sight: The magnetic latch makes opening very easy, the slightly curved lid looks elegant – and the cover should, so the dealer at Amazon praises it – even be made of leather. Only: The surface is made of exactly the same material as the Wedo case around € 4.79, in other words an embossed plastic foil (for surface details see also the cover picture of this blog post). Okay, it didn't actually say anything about "real leather" – we were fooled. The curved shape finally turns out to be rather impractical: Despite the large volume, only 16 cards have room, because the curvature remains empty of course. The plus points are the polished stainless steel interior and – as already mentioned – the closure.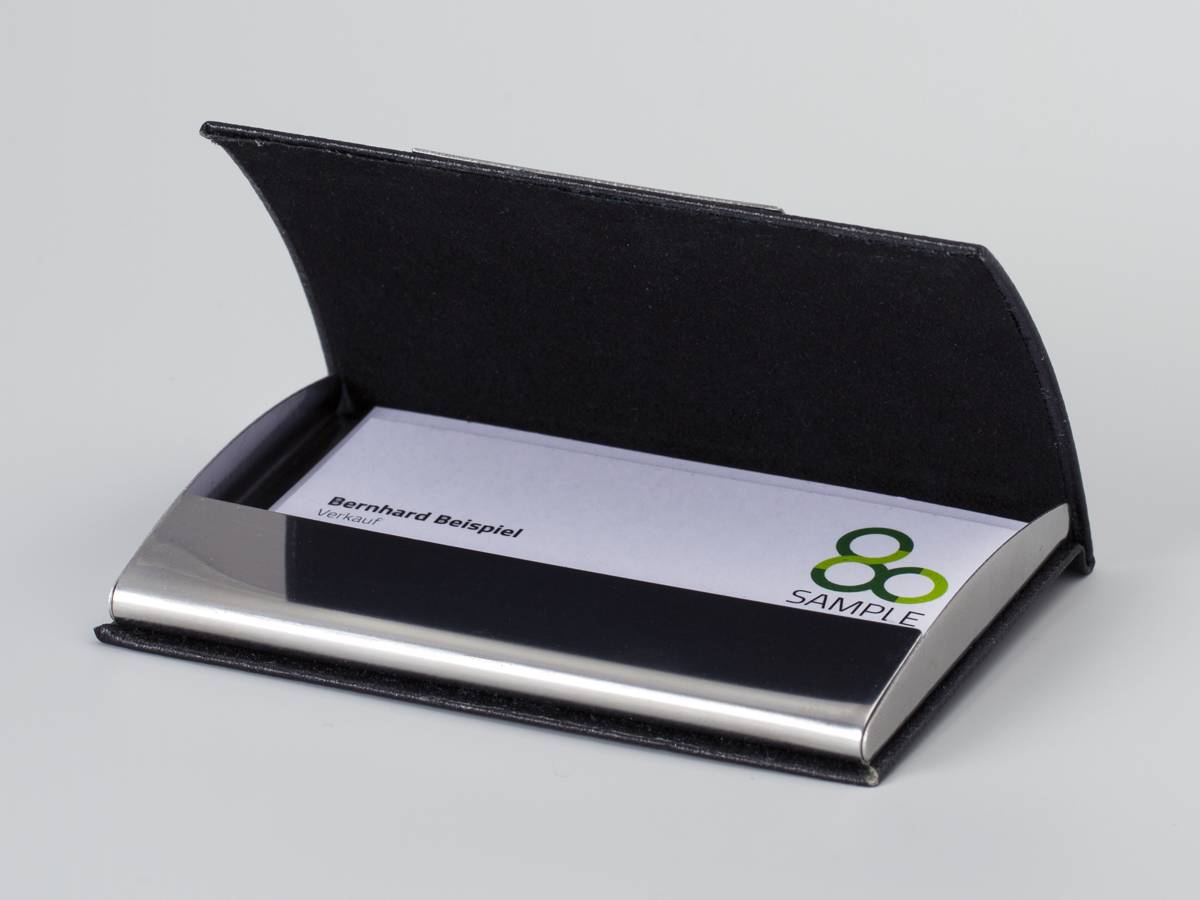 Quantum Abacus Monumentum: Okay for those who like the shape and appreciate the magnetic closure, but the case does not look particularly high-quality – even the pompous name does not help.
The tested business card cases at a glance:
Links to the Amazon product page in the "Model" column. All data available at time of publication: 16. 2. 2016
Marke
Modell
Material
Farbe
Optik
Außen-
maße
(mm)
Ge-
wicht
(g)
max.
Karten-
größe
(mm)
Kapa-
zität
(Kar-
ten)
Stabilität
Karten-
ent-
nahme
Verschluss
Preis (EUR)*
Sigel
VZ 135
Aluminium
silber
gebürstet
elegant, filigran
92 x 62 x 5
19
91 x 58
13
gering
einfach
Alu-
Schnapper
8.16
Sigel
VA 140
Kunststoff
transparent,
matt
einfach, billig
10 x 70 x 10
17
89 x 57
13
mittel
etwas
mühsam
Kunststoff-
Schnapper
2,73
Malloom
Aluminium
silber
gebürstet
originell, etwas klobig
96 x 82 x 16
39
95 x 57
35
mittel
etwas
mühsam
Koffer-
Schlösser
5,25
Reflects
Visitenkartenbox
Metall
schwarz
modern, technisch
95 x 71 x 11
47
91 x 58
25
hoch
sehr
einfach
Metall-
Schnapper
7.75
Wedo
Visitenkartenbox
Kunststoff/
Aluminium
schwarz/
silber geb.
gediegen, massiv
99 x 63 x 12
56
90 x 57
18
hoch
mühsam
Alu-
Schnapper
5.25
emall
supply
Visitenkartenspender
Edelstahl
silber
gebürstet
sehr stabil, schlicht
96 x 66 x 4
66
90 x 55
15
sehr
hoch
etwas
mühsam
keiner
3.60
Quantum
Abacus
Monumentum
Kunststoff/
Metall
schwarz/
silber glzd.
gediegen, edel
100 x 60 x 10
67
90 x 55
16
hoch
sehr
einfach
Magnet
19.99
For the Shop and for the office: Business card holder
While cases are used for the safe transport of business cards, business card stands and displays are intended for the stationary use – on the sales desk, on trade fair stands or on the desk.
The translucent prinux business card box can – once unfolded – be used for exactly this purpose. All prinunx business cards are delivered in this box at no extra charge. The box can hold up to two stacks of business cards: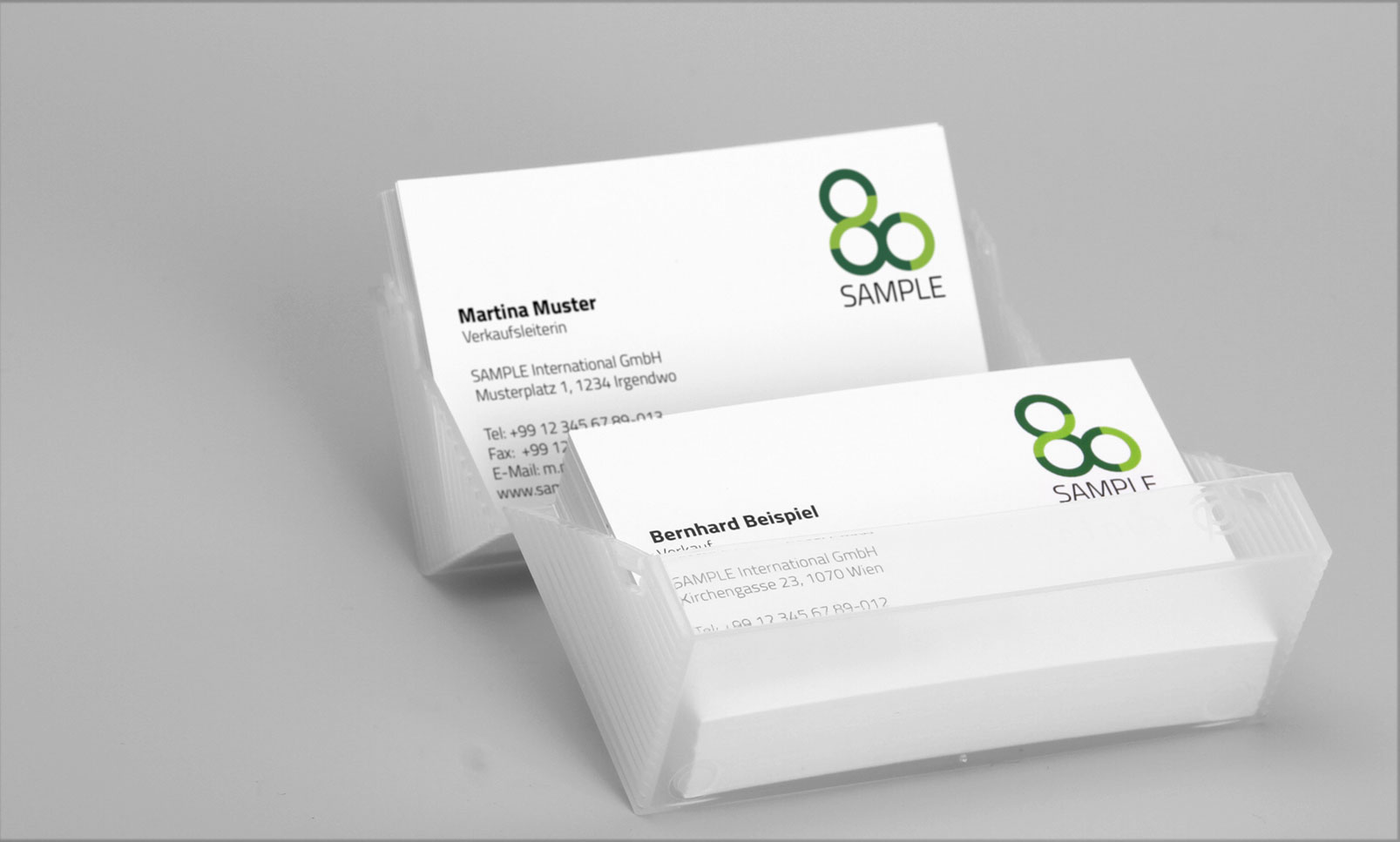 If you are looking for a different type of business card holder – for example with more than two compartments, in portrait format, weatherproof or for wall mounting – you will find it at specialists such as
Acrylhaus
. In connection with the high-quality acrylic glass models offered there, business cards can be used very effectively for advertising purposes.