Ordering business cards for 20, 100 or 500 people at once? With the new Excel upload from prinux, it can now be done in no time at all.
Ordering business cards online is only a matter of minutes with prinux: Select a template, enter your data, approve the preview – done! But what happens when a large order is due – e.g. for 50 people at once? Having to enter all the personal data individually – that would be quite tedious in such cases.
The faster alternative: collecting all contact data in an Excel file and then uploading it to the prinux online ordering system. This was possible with prinux in the past – but not in self-service: The files had to be emailed to prinux and uploaded manually by their support team.
As of recently, this task can easily be done by yourself – by following these four simple steps:
1. Downloading the Excel template
By clicking the "Excel Template" button, you will download a customised Excel file that already contains all the columns needed for ordering your business cards, e.g. for quantities, names, e-mail addresses, etc. The Excel file also contains the drop-down menus from the business card template, for choosing between various locations, for example.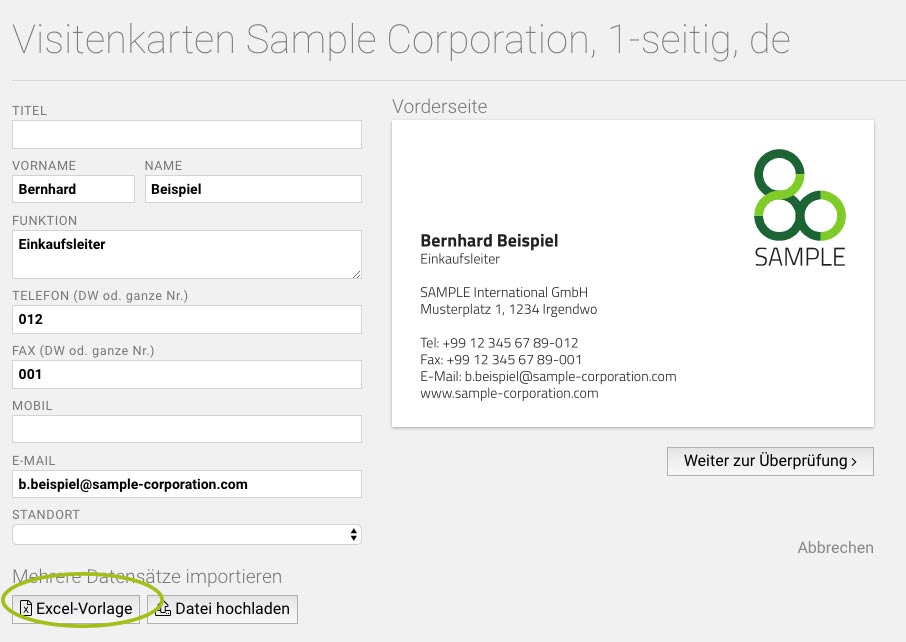 2. Editing the Excel list
Fill in and edit the downloaded file in Excel or any other program that can import and export xlsx files:

3. Uploading the finished Excel list
By clicking on the "Upload file" button, you will transfer your completed Excel list back into the prinux system. Now, above the template, a bar will appear showing the number of imported datasets as well as arrows to scroll through them. This allows you to immediately check whether all of your data has ended up in the right place: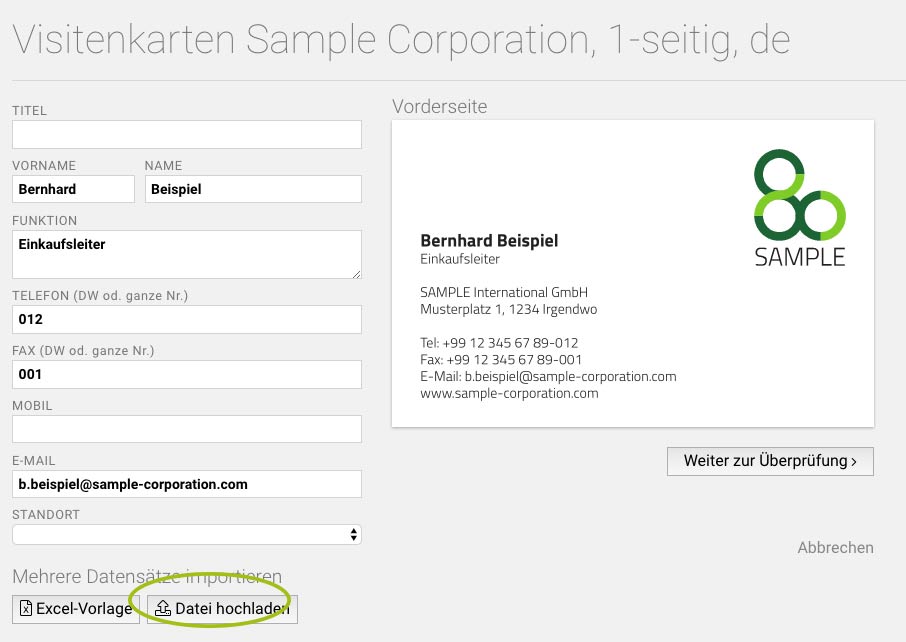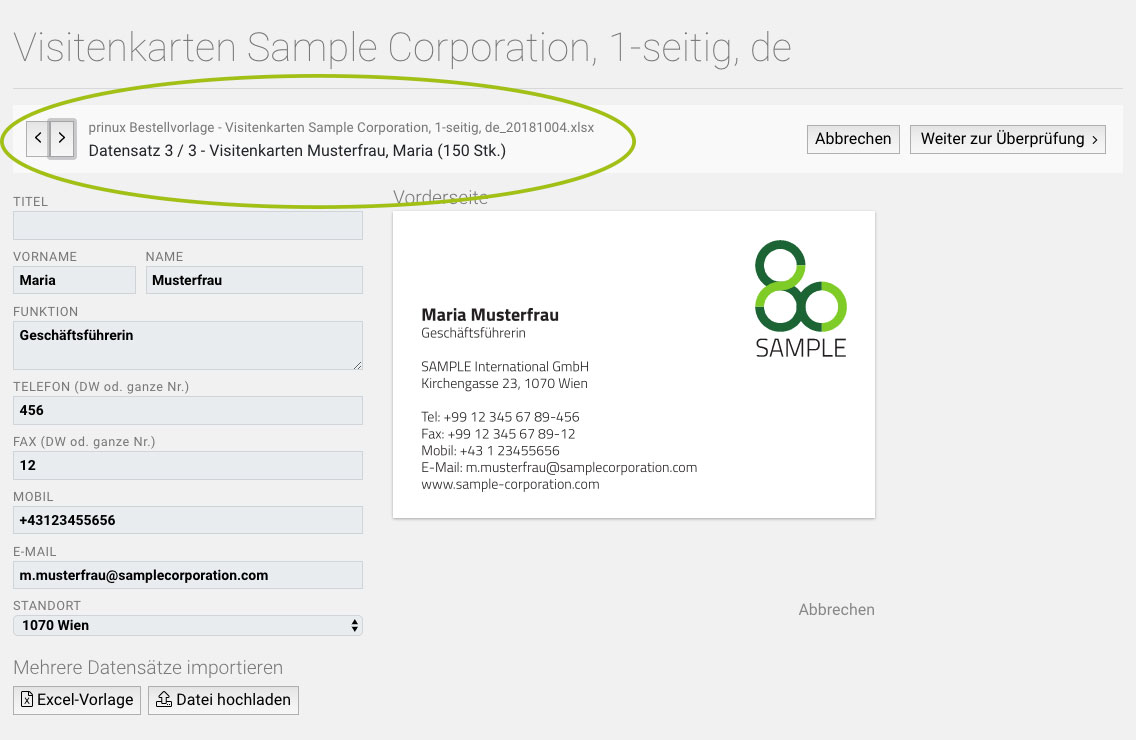 4. Adding the order to your shopping cart
Clicking "Continue with confirmation" will take you to an overview of your uploaded business cards. If everything is ok, add all of the imported cards to your shopping cart with a single click: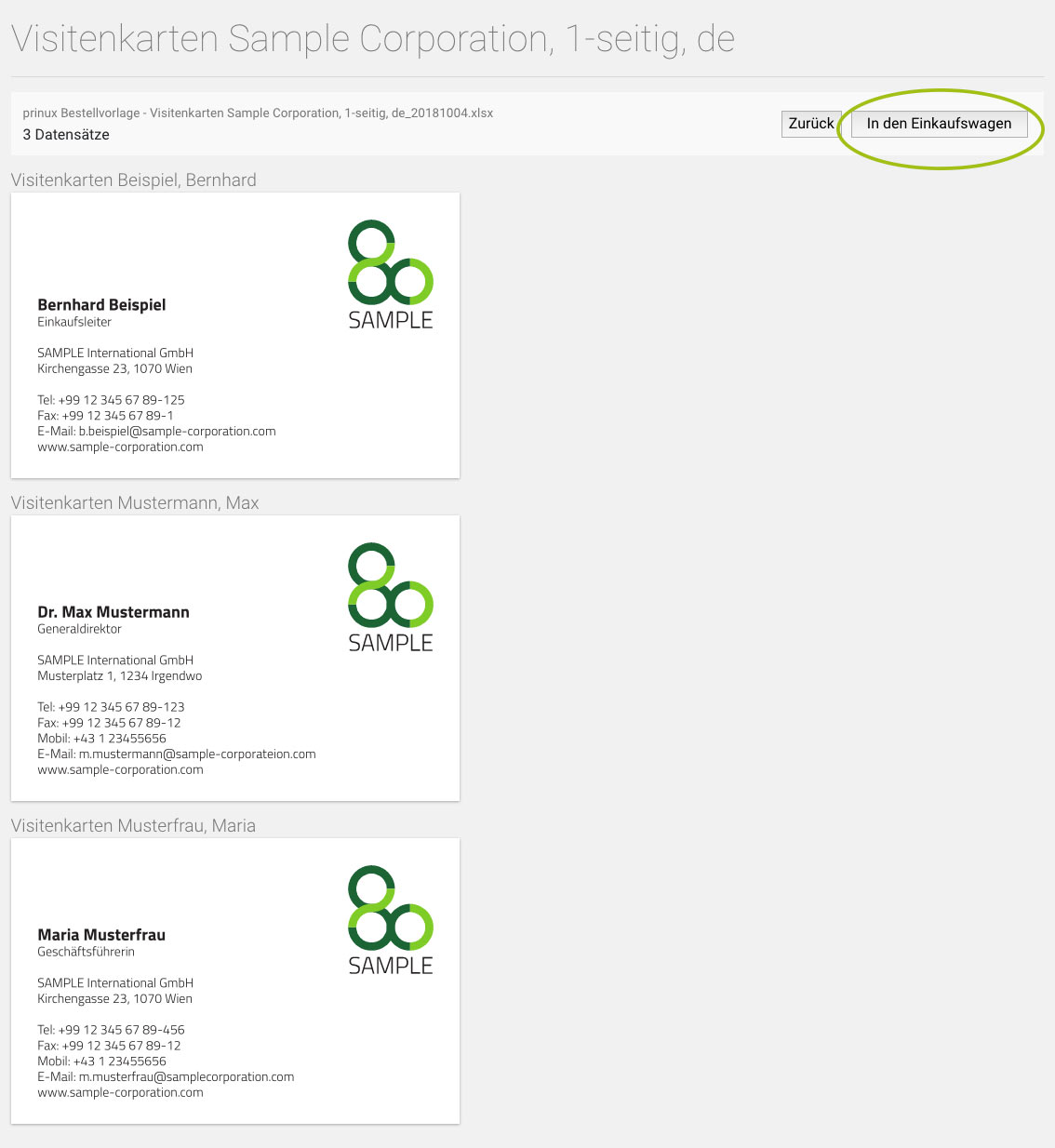 Manual changes after the import? No problem!
Do you want to change one or more cards after the import? Even that is possible. In your shopping cart, you can still open each card individually for editing (by clicking on "Edit") – just as with single orders. In the same way, you can remove cards from your shopping cart or add them to your drafts – for example, to send them to someone else for approval or to order them later.
There's no Excel button in your prinux store yet?
The new features are part of a completely reworked editor, which is in use already by several prinux customers and will now gradually be released for all accounts. If your account has not yet been updated to the new editor and you want to use the Excel upload function, please contact info@prinux.com or call 0800 100 2280 (DE, AT) or 0800 100 228 (CH).
However, the new editor has not only been built for the Excel upload. It also looks more elegant and is much, much faster. So fast, in fact, that the preview of your business card is updated continuously as you type. So the "Preview" button is now history. Read more about our new editor in one of the next blog posts …