In 85% of companies at least 4 eyes make sure that business cards are ordered correctly. Users of good online tools can get or give approval much quicker – and save some control steps altogether.
One interesting aspect of the prinux business card study refers to the approval workflows in the ordering process: in 78% of the companies surveyed, the dual control principle applies to all business cards in one form or another, and in another 7% of the companies at least some of the business cards are checked more closely.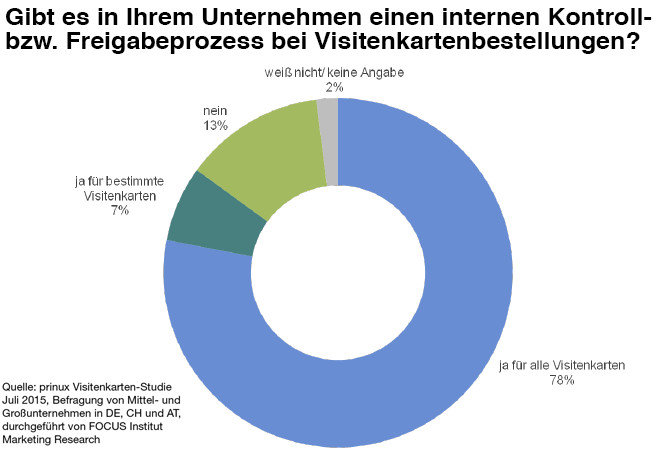 And what exactly is controlled? The study also provides answers to these questions: 82% take a second look at the content of the business cards – this can involve typing errors as well as the timeliness of the data. Almost three quarters pay attention to job titles and function descriptions. 60% check whether the layout specifications have been adhered to, and more than half of each check that the recipient is entitled to their own business cards and that the correct cost center is charged.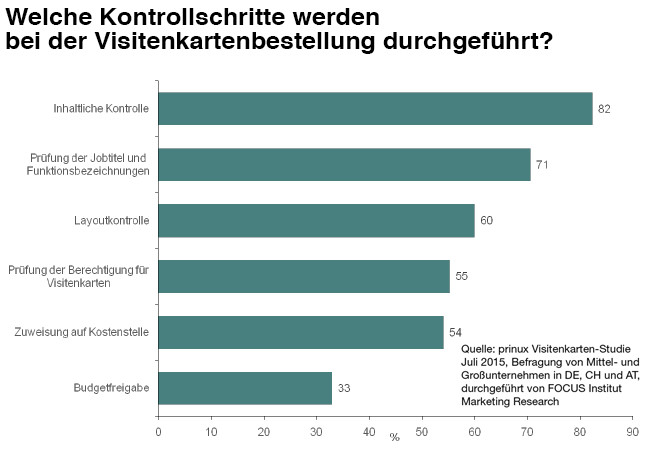 To comprehend the above figures, however, one must know that only 29 of the 100 companies surveyed procure their business cards online. After all, with online solutions, some of the control steps mentioned would already be superfluous. For example, intelligent layout rules can be used to guarantee that corporate design and typographic specifications are adhered to in every conceivable case: Blank lines are automatically suppressed, paragraphs are aligned to specific edges or axes, telephone numbers are automatically formatted and much more.
Typos and title chaos? No, thanks!
With online tools, it is also very easy to avoid the proliferation of job titles and location addresses and errors: Text modules stored in the system are simply called up via a drop-down menu instead of being typed in again each time – or loaded automatically at all, depending on user login. The same applies to authorizations and cost centers – all this can be configured accordingly with a web-to-print solution, making subsequent checks unnecessary.
Four eyes see more than two – even with online ordering
Nevertheless: Even when ordering online, four eyes see more than two. With self-procurement – i.e., when each employee orders his or her own cards – a superior or the central purchasing department, for example, often wants to reserve final approval for himself or herself. The opposite is true when the purchasing department or the secretary's office procures the cards centrally: here, the recipient of the cards usually wants to be given a final proof to rule out errors. A good online print solution supports such approval workflows flexibly according to customer requirements – without manual e-mails with PDFs or even screenshots. prinux has a simple system for this: the approver receives (mandatory or optional) an automatically generated e-mail, clicks on the link contained in it and approves the card with a further click on "OK". The entire process takes no more than a few seconds. If there are any change requests or reasons for rejection, these are entered into the online form and sent to the orderer with "Rejected":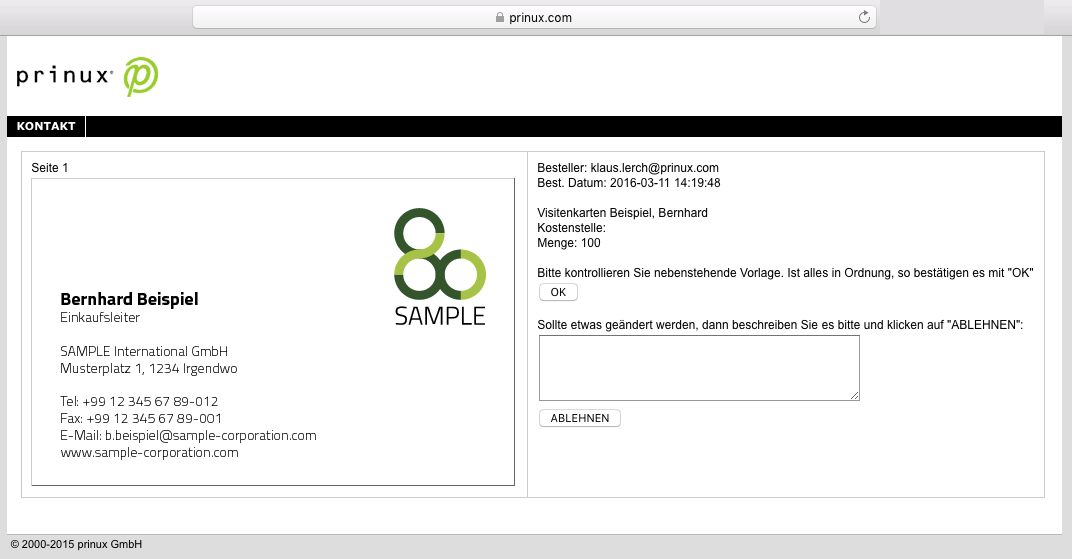 Conclusion: Check the check procedure
Simple audit processes are a key factor when it comes to efficient procurement, especially for printed materials. They save time and paper and ensure that the end products are error-free. So if you are looking for a solution for corporate business cards, you should definitely take a closer look at the validation processes before you decide.
The perfect solution for company business cards
Are you looking for a simple, efficient solution with which you and your colleagues can order company business cards online? Then you should test prinux – free of charge and without obligation: