The fact that business cards are more popular than ever despite digitalisation is probably in large part due to the tactile component of paper. You can not only see it, but also feel it and even hear it when you brush over it. With structured cardboards, these effects come across particularly well.
Whether linen embossing, felt structure or aquarelle paper effect: papers with a unique surface texture immediately make a special impression. The recipient of such business cards sense the high quality upon receiving the card and almost involuntarily pay great attention to it.
Structured papers are available in countless variations, so the choice is not so simple. As a business card specialist, prinux took a close look at the manufacturers' offers and compared them with the most frequent customer inquiries. The result is a range of currently four premium papers in different styles which are increasingly gaining popularity alongside the standard papers.
Appearance, feel and printability
In addition to appearance and feel, printability also played a major role in the selection process: all four papers guarantee high color brilliance and optimal ink adhesion in digital offset printing, so that the business cards can be printed perfectly even with difficult motifs.
Speaking of perfect printing: Digital offset printing is particularly suitable for business cards on textured paper, as the colours do not "flood" with this printing process – in contrast to conventional offset printing. This is what we call the (overly) deep penetration of the colour pigments into the paper, so that contrast and colour intensity are lost. Black would then tend to be dark grey and bright colours would become duller. In digital offset printing, the ink particles form a wafer-thin layer that remains on the surface of the paper but still adapts perfectly to the paper structure and adheres well.
But back to the papers themselves – first in direct comparison. This is what they look like: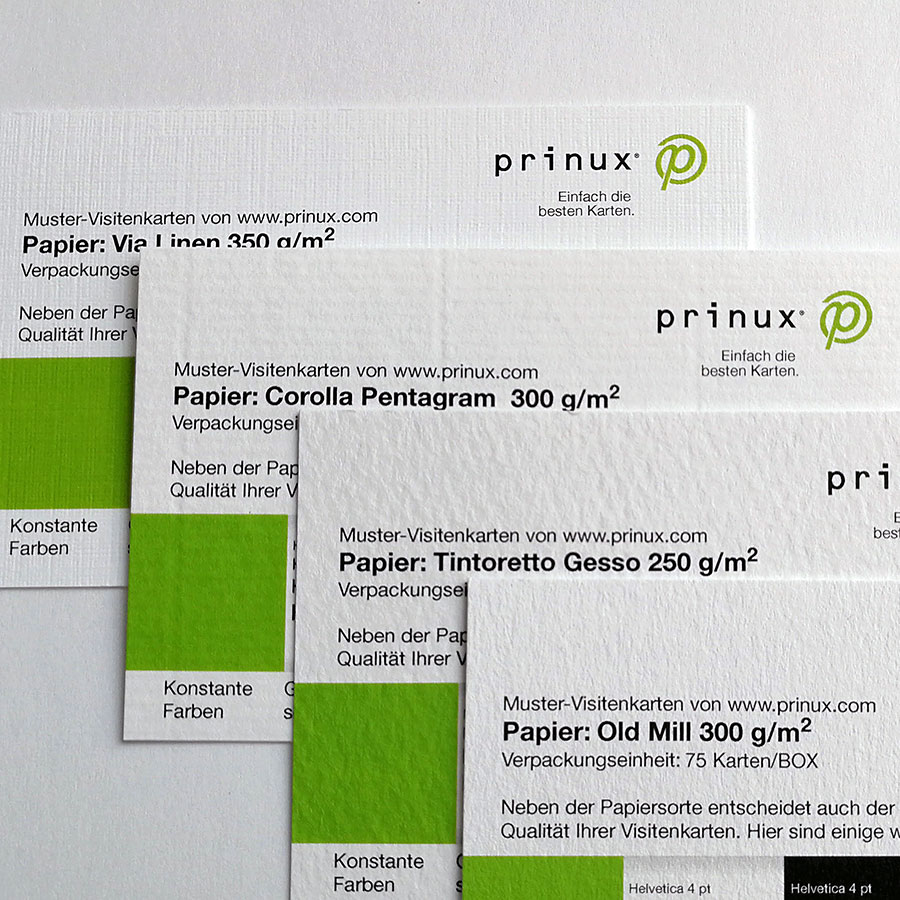 (Please note that a photo looks slightly different on every screen and can therefore only be an approximation of the actual appearance. To judge paper colour, thickness and surface for yourself, we invite you to use our free sample service: Request sample business cards)
Below we briefly introduce our four premium papers for business cards – which are all FSC-certified, by the way:
Business cards on Via Linen 350 g/m2
With Via Linen, the manufacturer Mohawk Paper has perfected the classic linen board: The paper weight of 350 g/m2 ensures a stiff, high-quality card, the colour tone is a very slightly broken white, but still looks fresh.  Furthermore, the production process is exceptionally environmentally friendly: it is completely CO2-neutral – partly because the necessary electricity is generated from wind energy.
Business cards on Corolla Pentagram 300 g/m2
Corolla Pentagram by Fedrigoni impresses with its classic waterline structure, which has become famous above all for the similar Conqueror paper. The natural white version of Fedrigoni is characterized by the same surface on both sides and excellent colour reproduction.
Business cards on Tintoretto Gesso 250 g/m2
The Tintoretto Gesso has the most striking structure of the four premium papers at prinux. It is strongly reminiscent of aquarelle paper, with the colours doing anything but mergeing when printing: Here, too, the printed image is sharp and contrasting. At 250g/m2, the paper is very light but voluminous and therefore surprisingly stiff. In terms of colour, Tintoretto Gesso is a little less vibrant than Corolla Pentagram – but this suits the character of this paper very well.
Business cards on Old Mill 300 g/m2
The fourth textured paper in the prinux premium range is Old Mill – though in this case, you have to look very closely to see the fine felt markings.  Business cards from Old Mill thus radiate a very discreet charm. The warm colouring and the rough surface allow them to fit perfectly into the current retro trend. More about Old Mill …
The question of cost
Which leaves the question: Are these great papers affordable? Absolutely – because when it comes to business cards, the price of paper plays a relatively small role compared to the costs for printing, cutting and packaging. At prinux, the additional costs are modest. Consequently, these beautiful materials are of interest to companies that order medium and large quantities of business cards, too. Simply request a non-binding offer and wait for a pleasant surprise … (Please enter the desired paper type in the field special requirements)