Which paper suits me? Or rather: our company? With business cards, it is particularly worthwhile to ask yourself this question. For in terms of price, a high-quality, carefully selected cardboard is hardly significant, but in terms of effect it is all the more important.
Straight from the beginning: There is no definite answer to the question in the headline – the perfect business card box for all cases does not exist, just like the only real fabric for a dress or a suit. Depending on the design, desired character and available budget, the ideal carton has to be selected individually. This is not so easy for amateurs – especially when the printer is bombarded with technical terms: coated or uncoated? Matt or glossy? Satin or structured? Art print or picture print? How are you supposed to know all this when you might not even have samples in your hands?
To help you find your desired carton as quickly as possible, a little basic knowledge of the most common paper categories (which also apply to cartons) will help:
Coated paper
Coated paper is covered with a coating compound of chalk, kaolin, casein or synthetics. This is used to fill in irregularities, making the paper smoother and – depending on the amount of coating and further processing – more or less glossy. This results in the subcategories "matt coated", "semi-matt or silk matt coated" and "glossy coated". Most magazines and brochures are printed on coated paper.
If you look at the paper under a magnifying glass, it appears as if it were actually a wall painted with white paint. The "raw plaster" is evened out by the paint: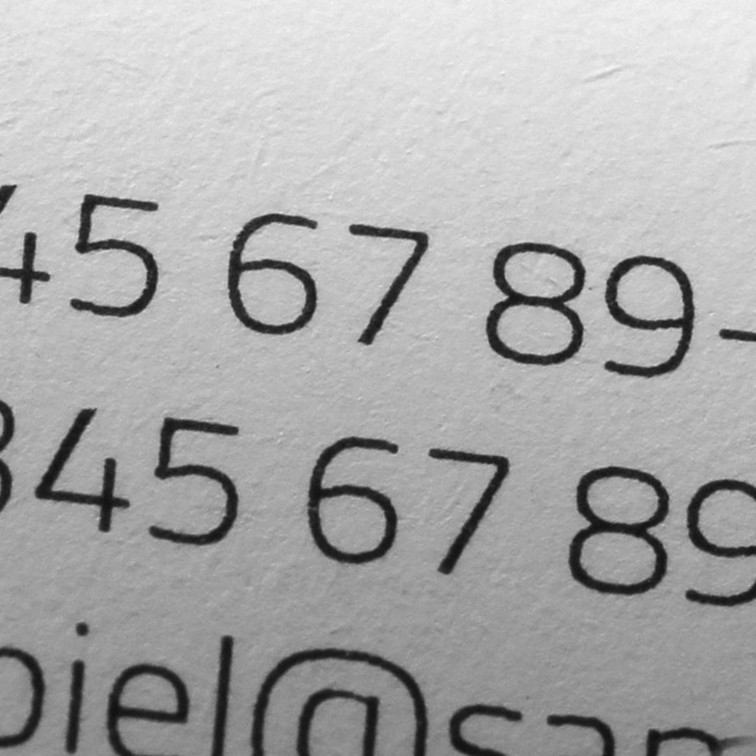 Coated papers are recommended for business cards if photos, fine colour gradients or particularly intense colours are to be reproduced. For optimal quality and protection, finishing with dispersion varnish is advisable, but then writing on the cards by hand is only possible to a limited extent.
Advantages

high colour brilliance, as most of the ink remains directly on the surface of the paper
quick drying of offset printing inks (glossy papers)

Disadvantages:

relatively low volume and low stiffness (the glossier, the less stiff), therefore high grammages from 300 g/m2 are recommended for business cards
usually lower degree of whiteness than uncoated papers
lower legibility (for high-gloss varieties)
without varnish scrub marks become quickly visible

Common names:
Coated business card cartons in the prinux standard range:

Claro Bulk 300g/m2
Heaven 42 300g/m2
Heaven 42 400g/m2
Invercote 350 g/m2
Uncoated paper
Uncoated paper is – guess what – not coated and therefore has a rough surface on which the individual fibres are still clearly visible on closer inspection. Plain copy paper or the inside of a paperback book are typically uncoated.
In the enlargement you can see the natural, rough structure of this paper: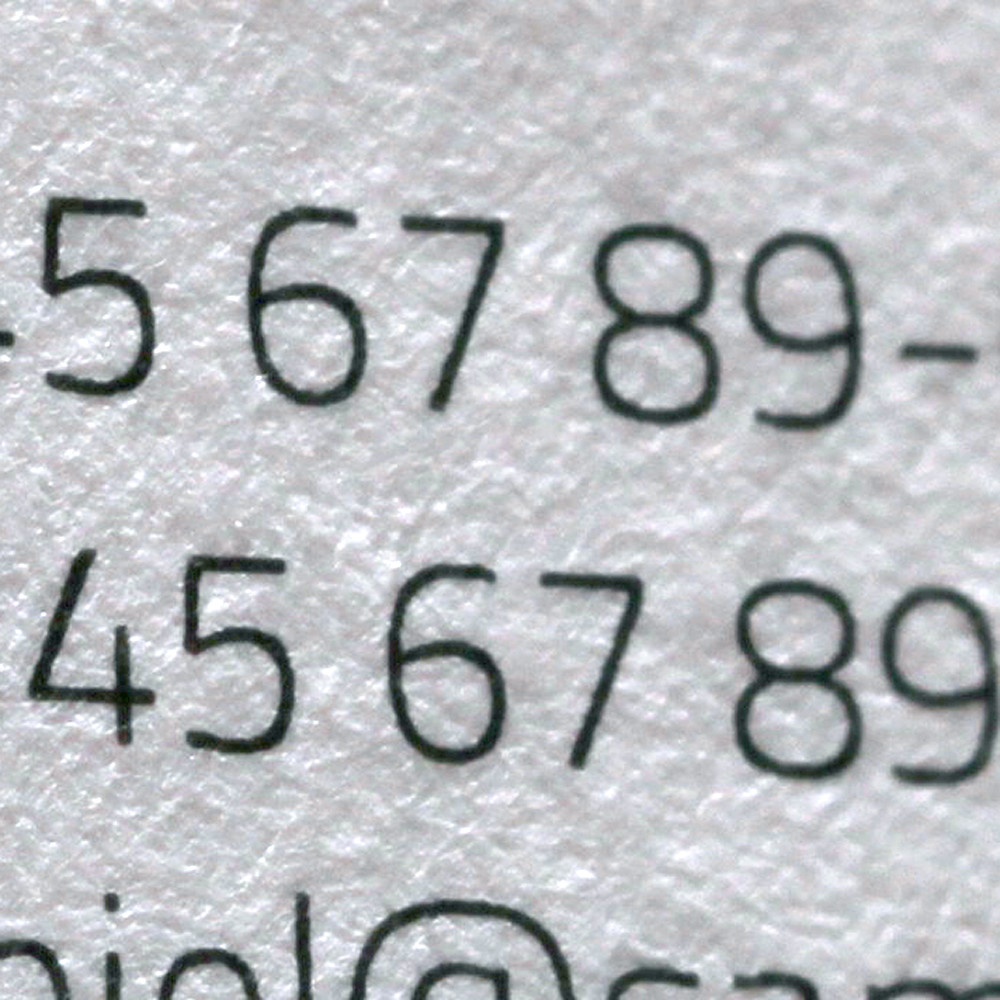 Uncoated papers are currently very much in style; they go well with high-contrast logos with retro designs and, with their natural surface, form an attractive contrast to the smooth world of smartphones and tablets. Bright white grades go very well with technical companies, while cream-coloured variants convey a pleasant retro touch.
Advantages:

Relatively high volume and high stiffness, therefore suitable for business cards from 240 g/m2
pleasant haptic
discreetly matte print image
Sorts with a very high degree of whiteness available

Disadvantages:

low colour brilliance in classic offset printing, as the ink is absorbed deeper into the paper. However, this problem hardly plays a role in digital offset printing.
slightly grey-looking black in offset printing – but this is also not an issue in digital offset printing
long drying time in offset printing

Common names:

Offset paper
Natural paper

Uncoated business card cartons in the prinux standard range:

Arcoprint 350g/m2 (bright white)
Envirotop 250g/m2 (Recycling paper, warm lightgrey)
Satinated paper
Although satinated paper is uncoated, it is still relatively even: it is mechanically smoothed during production by cylinders, but not coated. It thereby combines some of the advantages of uncoated paper with a smoother surface and thus better printability.
In the enlargement, the finer surface is visible compared to the unsatinated, uncoated papers: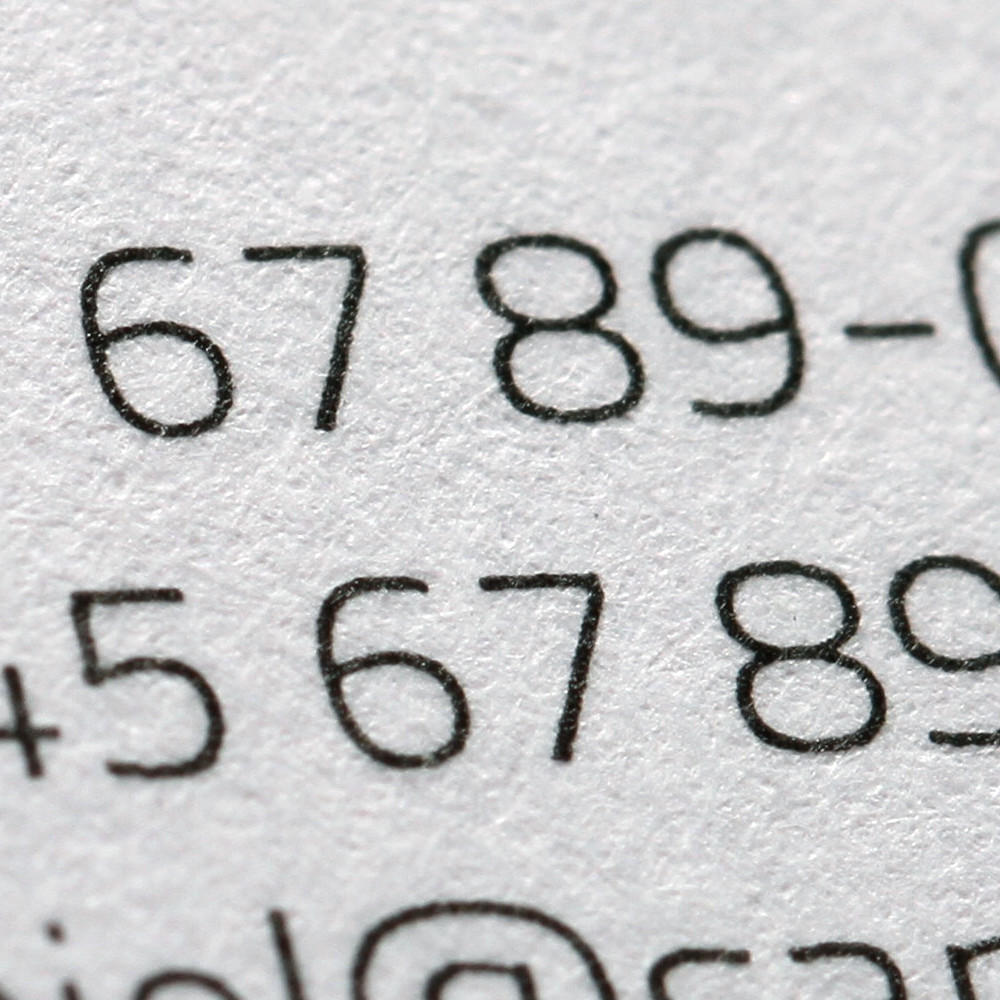 You can rarely go wrong with satin cardboard when it comes to business cards – no wonder that they are among the bestsellers at prinux.
Advantages:

Medium volume with medium stiffness, for business cards varieties with at least 300 g/m2 should be used
Varieties with a very high degree of whiteness available

Disadvantages:

only average colour brilliance in offset printing

Common names ( traditional), but less common today, as there are many new papers on the market):
Satin business card cartons in the prinux standard range:

Splendorgel 300g/m2,
Splendorgel 340g/m2 (neutral white)
Structured paper
For exceptional tactile and optical effects, there are cartonboard grades with structured surfaces. For this purpose, a full-surface pattern is already embossed into the paper during production – for example a felt-like texture: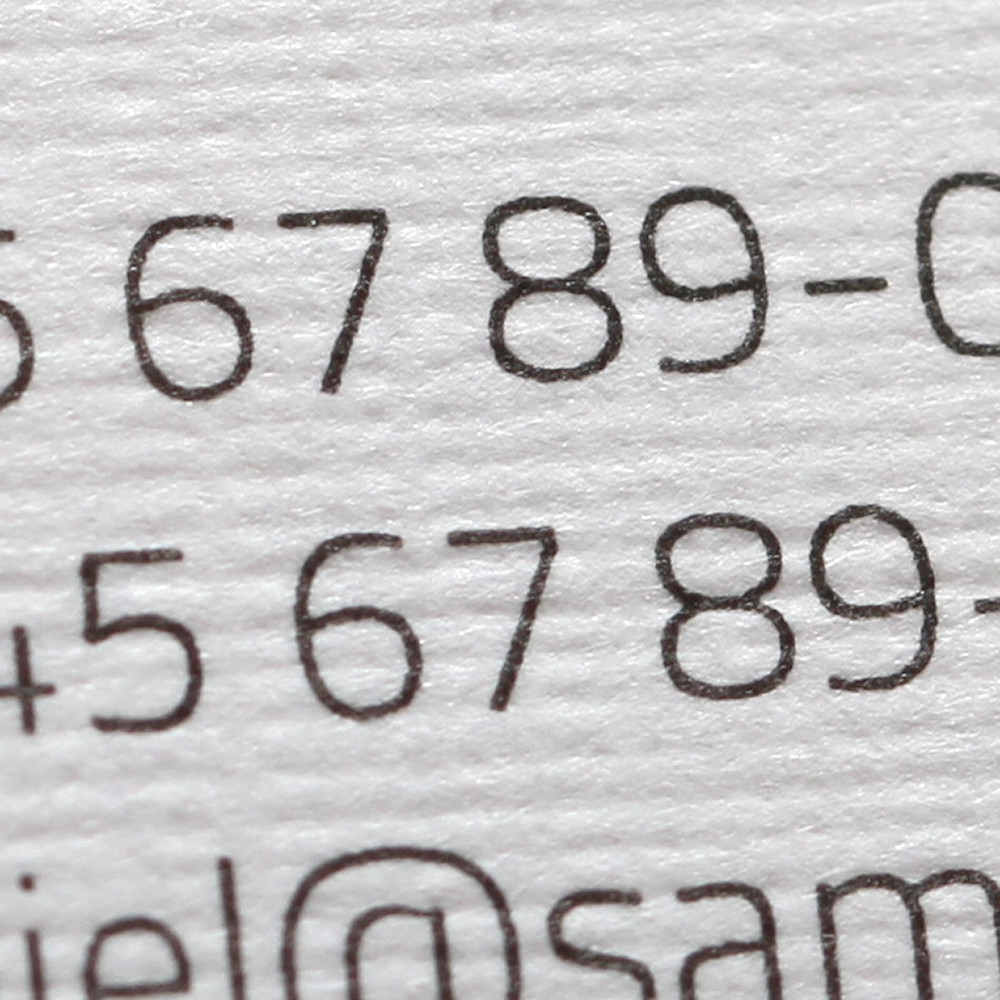 Structured cartons are often used for individual cards, but also for the equipment of notary's, lawyer's or tax consultant's offices. And incidentally, digital offset printing allows them to be printed better than ever before.
Advantages:

Extraordinary, noble appearance
intriguing feel

Disadvantages:

only average colour brilliance in offset printing

Common names (Beispiele):

Linen cardboard
Ribbed cardboard

Structured business card cartons in the prinux range:

Via Linen 270g/m2 (linen-like)
Tintoretto 250g/m2 ( similar to watercolour paper)
Corolla Pentagram 300g/m2 (ribbed)
Old Mill 300g/m2 (light, very discreet felt structure)
Here you can see printed business cards on textured papers in direct comparison: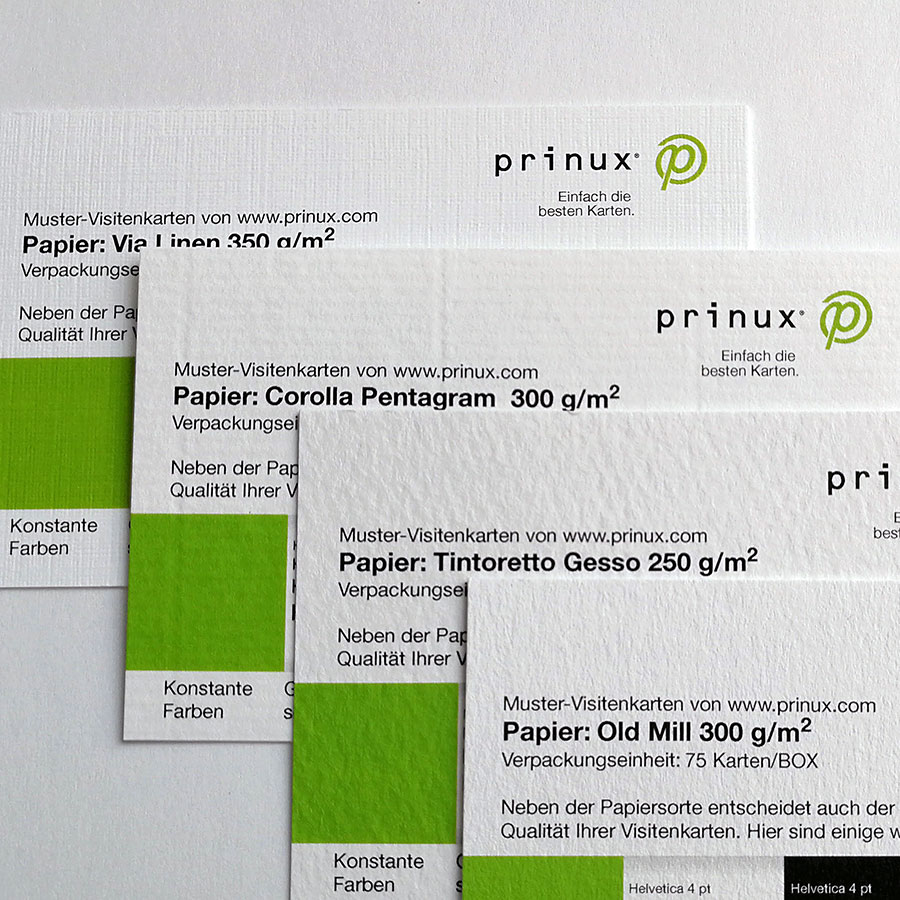 Keep in mind: The images in this blog post are greatly magnified to show the differences between the paper categories. These photos say little about the overall impression a business card makes, varying on the different types of paper. You can find more detailed information in the article "Textured paper – quality you can see and feel".
But choosing remains the easiest when the sample is in your hand. You can request such a sample set free of charge here.